Our platform embeds AI in clinical practice
Enabling proactive, coordinated care
Lenus Health's first-in-class platform structures health data, generates predictive AI and delivers actionable clinical insights at the point of care.
Deliver world-class care
Configurable and scalable. Lenus Health can support multiple condition pathways for any size population. Read our Covid case study to see how we can flex to meet peak demand.
Integration-ready. Lenus Health can integrate third party AI and medical device data directly into the platform. See how this helped reduce waiting times from 12 months to 6 weeks.
Interoperable. We use standard HL7 FHIRv4 Data APIs for identity, access and consent management services. Our tech features two-way data exchange and uses open industry standard protocols.
Consent management. Lenus Health is compliant with User-Managed Access (UMA) protocols. Patients control what data they share and who can access it.
A truly end-to-end solution that structures health data longitudinally from screening to diagnosis to monitoring to follow-up.
Optimise the patient experience
Appointment management. Patients can co-manage initial, routine and patient-initiated follow up (PIFU) appointments with their care team.
Digitised outcome measurement. Digital PROMS tools capture patient-generated data for diagnosis and follow up.
Remote care management. Data from symptom diaries & devices supports remote monitoring and helps the care team prevent unplanned admissions.
Transform the clinical experience
Triage, referral and discharge management. Digitised triage, referral and early supported discharge processes support smooth patient flow and efficient use of clinical time.
Digitised diagnostic workflows and device integration. Clinical workflows are enhanced through the use of patient-generated data and AI across the patient pathway.
Virtual wards and follow up. Clinical dashboards, virtual visits and escalation management enable the highest quality digital and Hospital at Home care.
Leverage data, analytics and AI
Case finding and risk stratification. Granular data from across the patient pathway helps identify at risk population cohorts to enable early intervention.
Patient and resource prioritisation. Patients and clinical care can be prioritised according to configurable criteria to reduce care backlogs and help those most in need.
AI-driven diagnostics and pathway optimisation. AI-driven insights can inform service performance management, planning, and pathway optimisation.
Trusted and compliant
The Lenus Health Platform and selected services are certified as Class I under EU Medical Device Regulations (MDR).
Our quality management system is fully certified to the International Standard BS EN ISO 13485:2016 by a UKAS accredited assessment body.
We undergo third party assessments to ensure continuing compliance in the changing regulatory landscape.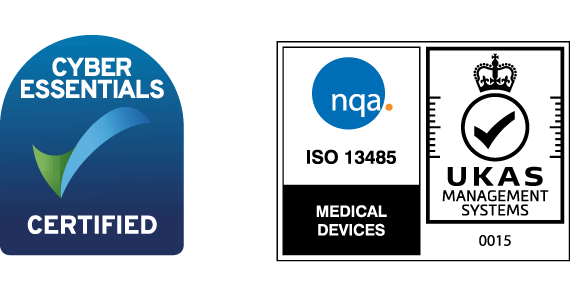 Deployment
We use the industry-leading Microsoft Azure cloud to support all our solutions.
Being cloud native and Azure optimised allows us to respond to the changing needs of the healthcare sector. We can scale services to meet current and future demands.
Get in touch
Got a service in mind for Lenus? Talk to us today.