COPD Pathway
A remote monitoring and virtual ward service for patients with Chronic Obstructive Pulmonary Disease supported by predictive outcome models.
Enquire Now
Lenus Health's COPD Support Service leverages data from connected devices and patient-reported outcomes to support virtual wards, reduce hospitalisations and improve outpatient care for people with COPD.
Background
COPD (Chronic Obstructive Pulmonary Disease) refers to a group of chronic lung conditions that affect more than 1.2 million people living in the UK.
2030

By 2030, COPD will be the third leading cause of death worldwide

1.2 million

In the UK, an estimated 1.2 million people live with COPD

1 in 5

1 in 5 COPD patients are at risk of exacerbation, a worsening of symptoms resulting in the need for urgent medical care

£6000

COPD exacerbations are the second most common cause of emergency hospital admission in the UK, with an average cost of £6,000 per admission
Published Results
The Lenus Service has improved the management of COPD by demonstrating a reduction in hospital admissions, sustained usage at 2 years follow-up and equality in access to care.
49%

Reduction in hospital admissions

4.74

Annual bed days saved per patient

58%

RECEIVER participants in Scottish IMD Quintile 1

£3.53m

Projected annual savings per 500 patients
Detailed results from the Remote-Management of COPD: Evaluating the Implementation of Digital Innovation to Enable Routine Care (RECEIVER) Trial are available in the Evidence pages.
NICE advice
The National Institute of Health and Care Excellence (NICE) has developed a medtech innovation briefing (MIB) on Lenus COPD Support Service for remotely managing chronic obstructive pulmonary disease available here.
NHS AI Award
Patent pending 2208262.2
Phase 3 Recipient: Artificial Intelligence in Health and Care Award delivered by Accelerated Access Collaborative, National Institute for Health Research and NHS AI Lab. Read more here.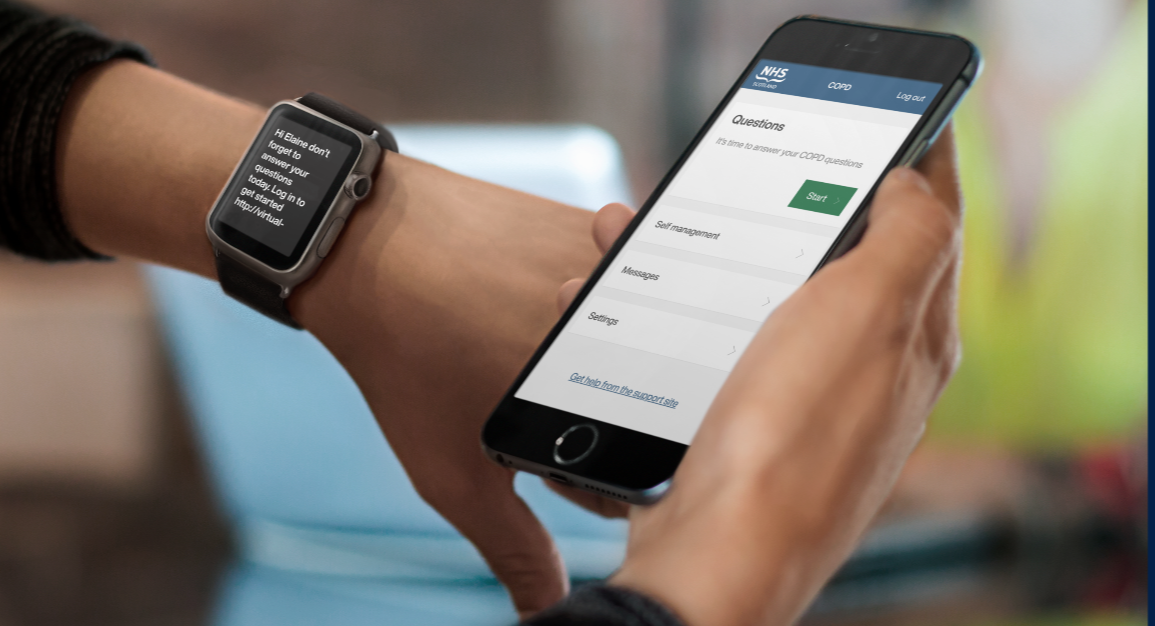 Clinical teams can access a dashboard which displays patient health data
Data rules help clinicians to identify patterns in patient health and make decisions about their care
A secure messaging service allows patients and clinical teams to contact each other
Cost
This service is available on a cost-per-patient basis for a minimum period of 12 months.
Exact costs depend on the number of patients and integrations with existing systems. This includes patient management systems (PMS) and electronic medical records (EMR).
View our licensing packages or contact us for a quote.
Overview
Our aim is to ensure that our COPD service is accessible to as many users as possible. This means, for instance, users should be able to:
Zoom in up to 300% without text spilling off the screen.
Navigate most of the service using only a keyboard.
Navigate most of the service using speech recognition software.
Listen to most of the service using a screen reader, which includes the most recent versions of JAWS (Job Access With Speech), NVDA (Non Visual Desktop Access), and VoiceOver.
How accessible are our services
We know some parts of our services are not fully accessible:
Some sections may be inaccessible to users utilising screen readers, including NVDA or the Talkback or VoiceOver screen reader on mobile devices.
Status messages might not always be announced by the screen reader.
Buttons in certain sections of the service may lack distinct labels.
What to do if you encounter accessibility issues
If you face challenges accessing any portion of our COPD service or come across any accessibility concerns, please reach out via the 'contact' section.
Enforcement procedure
The Equality and Human Rights Commission (EHRC) is responsible for enforcing the Public Sector Bodies (Websites and Mobile Applications) (No. 2) Accessibility Regulations 2018 (the 'accessibility regulations'). If you are not happy with how we respond to your complaint, contact the Equality Advisory and Support Service (EASS).
Technical details about accessibility
Lenus Health is committed to making its COPD Service accessible, in accordance with the Public Sector Bodies (Websites and Mobile Applications) (No. 2) Accessibility Regulations 2018. Our COPD service is partially compliant with the Web Content Accessibility Guidelines version 2.1 AA standard, due to the non-compliances mentioned below.
Non-accessible content
The following sections are non-accessible for the reasons stated:
Some text isn't available to screen readers, which doesn't meet the WCAG (Web Content Accessibility Guidelines) 2.1 success criterion 1.3.1 Level A (Info and Relationships).
Not all status messages are announced by the screen reader, violating WCAG 2.1 success criterion 4.1.3 Level AA (Status messages).
Some buttons lack unique labels, contravening WCAG 2.1 success criterion 2.4.6 Level AA (Headings and labels).
We are currently working to address these specified accessibility issues and ensure that all information is presented in an accessible way for all users.
How we assess our platform and services
The COPD service underwent testing on 15/10/2021. The assessments were executed by Storm ID.
Steps we are taking to enhance accessibility
We routinely assess the user experience for non-compliance with WCAG 2.1 Level AA, documenting our insights to maintain a record of areas for enhancement in the ongoing development of the platform and services.
Our accessibility evaluation outlines the discovered issues and lays out our strategies for enhancing accessibility on our digital services.
This statement was prepared on 15 October 2021. It was last revised on 4 September 2023
Get in touch
Got a service in mind for Lenus? Talk to us today.